*********IMPORTANT FESTIVAL NOTICE ***
!!!!!!FESTIVAL NOTICE!!!!!!
Thursday night ( Feb. 15) jamming session has been changed to Barrontown Community Center 610 Herrington Rd, Petal, MS.
This change is due to the Death of a Church member and the Family Life center will be used immediately after a Memorial Service that day. ( all other days of the festival will not be effected)
However the Lord has provided another location for the jam only 3 miles from the church.
Directions:
Traveling east on Evelyn Gandy/Highway 42 (2nd stoplight after you pass Walmart) turn left onto Herrington Rd. Travel approximately 2.5 miles and you will come to a 4-way stop. Continue straight across for approximately .4 miles and the center is On the right.
If traveling west on Highway 42 you pass Calvary Baptist church and turn right at the next stoplight onto Herrington Rd. And follow instructions above.
February 15-17, 2018
Hey folks! The 2018 Southern Strings Dulcimer Festival is gearing up for another great Festival in Petal, MS. ( just outside of Hattiesburg, MS) Mark your calendars for the following dates: Thursday Night, Feb. 15th,- Pre-Festival Jam Session & Fellowship…. Feb. 16th, Friday – Jamming – Workshops – & Fellowship Dinner with Bingo…… Feb. 17th, Saturday – Workshops – On-Stage Performances & Competition
_________________________________________________
FEATURED INSTRUCTORS
Aaron O'Rourke – (Mountain Dulcimer) Chattanooga, TN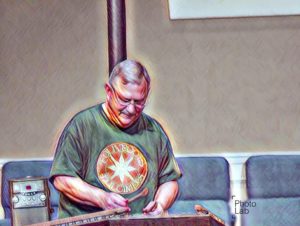 Jess Dickinson (Hammered Dulcimer) Madison, MS


GUEST WORKSHOP INSTRUCTORS




Jan Carroll

 - 

(Mountain Dulcimer) - Lawton, OK





William Craig Mann

 - 

(Mountain Dulcimer) - Cullman, AL





Johnny Carroll

 - 

(Rhythm Percussion) - Lawton, OK





R

ichard Switzer

 -

 (Psaltery) - Starkville, MS
---
Local Instructors



Don Hill - (Hammered Dulcimer) - Petal, MS 

Kathy Ford

 - (Mountain Dulcimer/Ukulele) - Sumrall, MS

 

Terry Keith

 - (Auto Harp) - Laurel, MS

 

Silvia Sanders

 - (Dulcimer) - Hattiesburg, MS

 

 ________________________________________________
FESTIVAL OVERVIEW
2018 Southern Strings Festival provides opportunity for players of numerous acoustical instruments to increase their skills in workshop settings. If you do not play but would like to learn, beginner classes will be available to you. Intermediate and advance players will enjoy workshops on techniques and new musical selections. All players can gather, learn, listen, jam and share musical experiences.

 

 VENUE


 

 Calvary Baptist Church, 1123 Highway 42, Petal, MS 39465

  WORKSHOPS & JAM 

SESSIONS


 

 Sessions are geared to all levels of players from Absolute Beginner to Advanced, all in a laid back atmosphere.
FEATURED PERFORMERS & INSTRUCTORS
While all our Festival Instructors are outstanding, we do have two outstanding Instructors in their field of expertise that we consider our 'Featured Instructors'. In Mountain Dulcimer we have:
AARON O'ROURKE is a 'sought out' Mountain Dulcimer Instructor all across the U.S. He will bring a new twist and younger sound as he conducts his workshops. You don't want to miss this opportunity to sit under his leadership.

"In our Hammered Dulcimer area we are so proud to have the one and only
JESS DICKINSON will once again bring his excellent teaching skills to his workshops. Jess is a Co-Festival partner as he is the "Father" of the "Deep South Dulcimer Championship". He developed the Championship 7 years ago and is in the process of having it Sanctioned by Nationals.
GUEST INSTRUCTORS
Jan Carroll recently placed 4th at Windfield, KS, received First Place in Mountain View, AR as well as the 2017 Deep South MT Dulcimer Champion.
Craig Mann is dulcimer historian and has been an MT Dulcimer instructor in Northern AL for many years.
Richard Switzer will again lead our Psaltery Players in a "Psaltery Symphony" which will perform on Saturday.
Johnny Carroll is a percussionist who will be giving tips on enhancing your group sound by using Rhythm instruments.
LOCAL INSTRUCTORS
Don Hill – (Hammered Dulcimer) – Petal, MS – Deep South Dulcimer Championship 2nd & 3rd place winner.
Kathy Ford – (Mountain Dulcimer & Ukulele) – Sumrall, MS Multi-Instrumentalist and long timer performer with Gospel Groups.
Terry Keith – (Auto Harp) – Laurel, MS – Singing with Auto-Harp specialty
Silvia Sanders – (Dulcimer) – Hattiesburg, MS – Mt Dulcimer Instructor in both DAA & DAD with a easy to learn atmosphere

ON-STAGE PERFORMANCES
 

 On-Stage Performance - for individuals or groups who would like to play a '2 song set' or no more than a 10 minute slot of time. Our Instructors will also perform at this time if they desire.



SPECIAL ORCHESTRA & PSALTERY SYMPHONY
 

 We are working to get an Multi-Instrumental Session for the Festival which will also be asked to perform on Saturday. Our Psaltery Symphony will be performing as well.

ON-SITE-MEALS
 

 A wonderfully delicious meal will be served on Friday night followed by the Annual Southern Strings BINGO game for prizes. (cost of meal will be on the registration form coming soon)


 

 Lunch Friday & Saturday - you will have plenty of time to go pick something up bring back to eat at the Church or maybe you would like to bring your lunch. Drinks will be available at the snack bar.(additional info on registration form)



VENDORS
  

Vendors will be available on site. Music related items only. Musical Instruments, music, accessories, and new items will be available for purchase.
JAMMING


  

Jam session will be available at all times.



DULCIMER DOCTOR
 

 A dulcimer doctor will be available for minor repairs to your dulcimer during the festival.



REGISTRATION FORMS ( on top menu )